Postal Uniform
Vendor #24702


UNION MADE
IN THE USA
Home
About Us
Postal Uniform Catalog

Testimonials
Uniform Sizing Info
Postal Uniform Blog
Contact Us
Buy Postal Uniforms
Letter Carrier Uniforms
Postal MVS Uniforms
CCA Postal Uniforms
Window Clerk Uniforms
Postal Uniform Shoes
Overshoes & Rubbers
Winter Wear
Rainwear
Headwear
Gloves
Socks
Shop by Brand
New Balance
Rocky
Thorogood
Reebok
Rockport
Search
FAQ
Privacy Policy
Site Map
---
Postal Uniform
Vendor #24702
Office Hours:
M-F 8am-5pm (CST)
Order Postal Uniforms
888.682.8889 (toll free)
or 913.764.4488
FAX Toll Free
877.227.0167
Alternate FAX
913.780.4248
---
We accept
Postal Uniforms Direct
15560 S. Keeler St.
Olathe, KS 66062
tel. (913)764-4488
fax (877)227-0167

Certified Postal Uniform Letter Carrier & MVS Shirts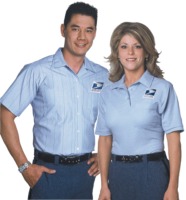 Postal Uniforms Direct offers HIGH QUALITY, regulation postal Letter Carrier & Motor Vehicle Services (MVS) shirts in all of the styles available: long sleeve, short sleeve, shirt jac and knit polo.
UNION MADE IN THE USA!
Make your Letter Carrier Shirt Selection Below or move easily from product to product using our drop-down menu at the top of each page (beneath our logo):
Long Sleeve Shirt
Short Sleeve Shirt
ShirtJac (Shirt Jacket)
Knit Polo Shirt
*See Sizing Information Page to assist you in making the correct choice!

---

2015 Postal Employee Calendar & Planner
Request Free Postal Uniforms Direct Catalog
---
Check your postal uniform allowance & anniversary date!!
Call: 800•287•5003